Rolex Oyster Perpetual 114200 34 mm Women's Watch Review
~
Nevertheless, only a few companies consistently identify with the pursuit of excellence as Rolex is doing. Moreover, Rolex always is questing for the absolute, discovering original approaches and also innovative solutions. Of course, the Rolex watches proved themselves from the start in the most extreme conditions imaginable – from the depths of the deepest oceans to the summits of the highest mountains, in the air and on the race track. Also, to ensure that all Rolex watches can live up to these high expectations, every single one is tested to extremes before it is allowed to leave the Rolex site.
~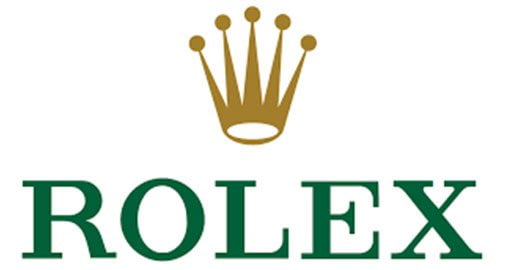 Find out more about Our Rolex Collection Here
~
The Movement – Rolex Caliber 3130 
In the first place, this model comes equipped with Rolex Calibre 3130 movement which is a self-winding mechanical movement entirely developed and manufactured by Rolex. Like all Rolex Perpetual movements, the 3130 comes also certified as a Swiss chronometer, which becomes a designation reserved for high-precision watches that have successfully passed the Swiss Official Chronometer Testing Institute (COSC) tests. Moreover, this movement is fitted with a Parachrom hairspring, offering greater resistance to shocks and also to temperature variations. Thus, its architecture, in common with all Oyster watch movements, makes it singularly reliable.
In fact, the Oyster Perpetual model steal remains Rolex's most basic watch. As many of us know already, the Oyster Perpetual comes in five different sizes – 26mm, 31mm, 34mm, 36mm, and also 39mm. Moreover, Rolex made that each size to possess its own set of dials from which the customer can choose.
But essentially, in all cases, these watches possesses only three hands – Hours, Minutes, and also Center Seconds. Also, the watch possesses a Twinlock screw-down crown, an Oyster bracelet with Oysterclasp fasteners, and also a fixed Domed Bezel.
Of course, this is quite an example of less is more comparing these watches with all other collections. As we will see in detail the 34 mm size possess warm dials as the most basic option, with colors like Olive Green, Red Grape, Champagne, Pink and also Blue providing more alternatives. As a matter of fact, this watch represents the finest choice for a lady. A simple but elegant Luxury Watch to wear every day.
So Ladies let's find out more about these beautiful watches.
We will start with one of our favorites:
Rolex Oyster Perpetual 114200-0021 OLGSO 34 mm Green Dial Luxury Watch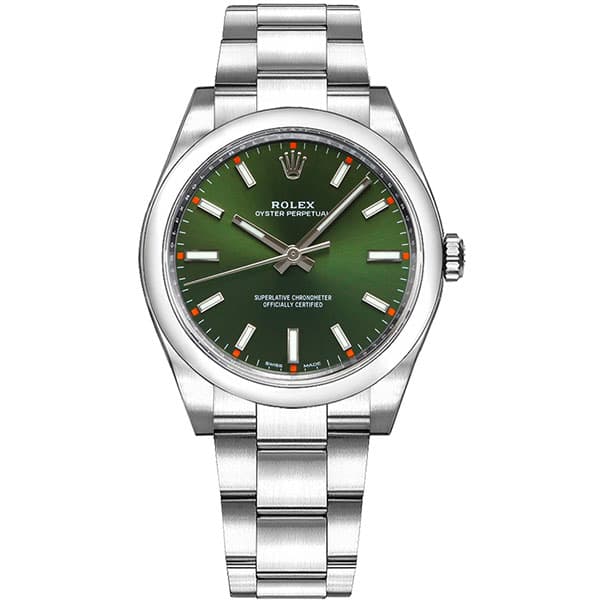 MOVEMENT
Self Winding Automatic Chronometer Movement

( also with a magnetic shield to protect the movement )

Rolex Caliber 3130

( Entirely developed and also manufactured by Rolex )

Vibrations Per Hour: 28,800

Jewels: 31

OSCILLATOR – 

Paramagnetic blue Parachrom hairspring

Up to 48 Hours Power Reserve
FEATURES
Anti-Magnetic

Stop-Seconds for Precise Time Setting
CASE
Shape: Round

Diameter: 34 mm = 1 1/3″ CASE

Material: Brushed 904L Oystersteel Stainless Steel Case 

904L Oystersteel Stainless Steel Domed Bezel 

Scratch Resistant Sapphire Crystal

Screw Down Crown with Twinlock Double Waterproofness System

100 Meters / 330 Feet Water Resistant
DIAL
Color: Olive Green

Applied Index Hour Markers with Luminous Fill and also with Red Dots

Hour markers fashioned from 18 kt White Gold to prevent tarnishing

Hours and also Minutes Hands with Luminous Fill

18Kt White Gold Rolex Crown applied at 12 o'clock position
BRACELET / STRAP 
Type: Bracelet

Material: Brushed 904L Oystersteel Stainless Steel Oyster

Size: 6″ – 15.24 cm Adjustable

Oysterclasp Deployment Buckle

Free Bracelet Sizing
Warranty
6 Years Warranty Included or you can also choose for an extended warranty program:
Silver – +3 Years 

Gold – Lifetime

Platinum – Lifetime with Yearly Ultrasonic Deep Cleaning
Also, find more information about the price and availability here   
---
Rolex Oyster Perpetual 114200 34 mm Women's Watch Review
---
Rolex Oyster Perpetual 114200-SLVBASO 34 mm Women's Watch
~
_ 
MOVEMENT
Self Winding Automatic Chronometer Movement
( also with a magnetic shield to protect the movement )
Rolex Caliber 3130
( Entirely developed and also manufactured by Rolex )
Vibrations Per Hour: 28,800
Jewels: 31
OSCILLATOR – 

Paramagnetic blue Parachrom hairspring

Up to 48 Hours Power Reserve
FEATURES
Anti-Magnetic
Stop-Seconds for Precise Time Setting
CASE
Shape: Round
Diameter: 34 mm = 1 1/3″ CASE
Material: Brushed 904L Oystersteel Stainless Steel Case 
904L Oystersteel Stainless Steel Domed Bezel 
Scratch Resistant Sapphire Crystal
Screw Down Crown with Twinlock Double Waterproofness System
100 Meters / 330 Feet Water Resistant
DIAL
Color: Silver
Applied Index Hour Markers with Luminous Fill 
Applied Arabic Hours Markers also with luminous fill at 3, 6 and 9 o'clock
Hour markers fashioned from 18 kt White Gold to prevent tarnishing
Hours and also Minutes Hands with Luminous Fill
18Kt White Gold Rolex Crown applied at 12 o'clock position
BRACELET / STRAP 
Type: Bracelet
Material: Brushed 904L Oystersteel Stainless Steel Oyster
Size: 6″ – 15.24 cm Adjustable
Oysterclasp Deployment Buckle
Free Bracelet Sizing
Warranty
6 Years Warranty Included or you can also choose for an extended warranty program:
Silver – +3 Years 
Gold – Lifetime
Platinum – Lifetime with Yearly Ultrasonic Deep Cleaning
Also, find more information about the price and availability here 
---
Rolex Oyster Perpetual 114200 34 mm Women's Watch Review
---
Rolex Oyster Perpetual 114200-BLUASO 34 mm Blue Dial Women's Watch
~
TECHNICAL SPECIFICATION
MOVEMENT
Self Winding Automatic Chronometer Movement
( also with a magnetic shield to protect the movement )
Rolex Caliber 3130
( Entirely developed and also manufactured by Rolex )
Vibrations Per Hour: 28,800
Jewels: 31
OSCILLATOR – 

Paramagnetic blue Parachrom hairspring

Up to 48 Hours Power Reserve
FEATURES
Anti-Magnetic
Stop-Seconds for Precise Time Setting
CASE
Shape: Round
Diameter: 34 mm = 1 1/3″ CASE
Material: Brushed 904L Oystersteel Stainless Steel Case 
904L Oystersteel Stainless Steel Domed Bezel 
Scratch Resistant Sapphire Crystal
Screw Down Crown with Twinlock Double Waterproofness System
100 Meters / 330 Feet Water Resistant
DIAL
Color: Blue
Applied Index Hour Markers with Luminous Fill 
Applied Arabic Hours Markers also with luminous fill at 3, 6 and 9 o'clock
Hour markers fashioned from 18 kt White Gold to prevent tarnishing
Hours and also Minutes Hands with Luminous Fill
18Kt White Gold Rolex Crown applied at 12 o'clock position
BRACELET / STRAP 
Type: Bracelet
Material: Brushed 904L Oystersteel Stainless Steel Oyster
Size: 6″ – 15.24 cm Adjustable
Oysterclasp Deployment Buckle
Free Bracelet Sizing
Warranty
6 Years Warranty Included or you can also choose for an extended warranty program:
Silver – +3 Years 
Gold – Lifetime
Platinum – Lifetime with Yearly Ultrasonic Deep Cleaning
Also, find more information about the price and availability here 
---
Rolex Oyster Perpetual 114200 34 mm Women's Watch Review
---
Rolex Oyster Perpetual 114200-CHPSDO 34 mm Champagne Dial Watch
~
MOVEMENT
Self Winding Automatic Chronometer Movement
( also with a magnetic shield to protect the movement )
Rolex Caliber 3130
( Entirely developed and also manufactured by Rolex )
Vibrations Per Hour: 28,800
Jewels: 31
OSCILLATOR – 

Paramagnetic blue Parachrom hairspring

Up to 48 Hours Power Reserve
FEATURES
Anti-Magnetic
Stop-Seconds for Precise Time Setting
CASE
Shape: Round
Diameter: 34 mm = 1 1/3″ CASE
Material: Brushed 904L Oystersteel Stainless Steel Case 
904L Oystersteel Stainless Steel Domed Bezel 
Scratch Resistant Sapphire Crystal
Screw Down Crown with Twinlock Double Waterproofness System
100 Meters / 330 Feet Water Resistant
DIAL
Color: Champagne 
Applied Index Hour Markers with Luminous Fill 
Hour markers fashioned from 18 kt White Gold to prevent tarnishing
Hours and also Minutes Hands with Luminous Fill
18Kt White Gold Rolex Crown applied at 12 o'clock position
BRACELET / STRAP 
Type: Bracelet
Material: Brushed 904L Oystersteel Stainless Steel Oyster
Size: 6″ – 15.24 cm Adjustable
Oysterclasp Deployment Buckle
Free Bracelet Sizing
Warranty
6 Years Warranty Included or you can also choose for an extended warranty program:
Silver – +3 Years 
Gold – Lifetime
Platinum – Lifetime with Yearly Ultrasonic Deep Cleaning
Also, find more information about the price and availability HERE 
---
Rolex Oyster Perpetual 114200 34 mm Women's Watch Review
---
Rolex Oyster Perpetual M114200 PNKASO 34 mm Pink Dial Ladies Watch
~
MOVEMENT
Self Winding Automatic Chronometer Movement
( also with a magnetic shield to protect the movement )
Rolex Caliber 3130
( Entirely developed and also manufactured by Rolex )
Vibrations Per Hour: 28,800
Jewels: 31
OSCILLATOR – 

Paramagnetic blue Parachrom hairspring

Up to 48 Hours Power Reserve
FEATURES
Anti-Magnetic
Stop-Seconds for Precise Time Setting
CASE
Shape: Round
Diameter: 34 mm = 1 1/3″ CASE
Material: Brushed 904L Oystersteel Stainless Steel Case 
904L Oystersteel Stainless Steel Domed Bezel 
Scratch Resistant Sapphire Crystal
Screw Down Crown with Twinlock Double Waterproofness System
100 Meters / 330 Feet Water Resistant
DIAL
Color: Pink
Applied 18K White Gold Index Hour Markers with Luminous Fill 
Applied 18K White Gold Arabic Hours Markers also with luminous fill at 3, 6 and 9 o'clock
Hour markers come fashioned from 18 kt White Gold to prevent tarnishing
Hours and also Minutes Hands with Luminous Fill
18Kt White Gold Rolex Crown applied at 12 o'clock position
BRACELET / STRAP 
Type: Bracelet
Material: Brushed 904L Oystersteel Stainless Steel Oyster
Size: 6″ – 15.24 cm Adjustable
Oysterclasp Deployment Buckle
Free Bracelet Sizing
Warranty
6 Years Warranty Included or you can also choose for an extended warranty program:
Silver – +3 Years 
Gold – Lifetime
Platinum – Lifetime with Yearly Ultrasonic Deep Cleaning
Also, find more information about the price and availability here 
---
Rolex Oyster Perpetual 114200 34 mm Women's Luxury Watch Review
---
Rolex Oyster Perpetual M114200-0020 34 mm Grape Red Dial Watch
~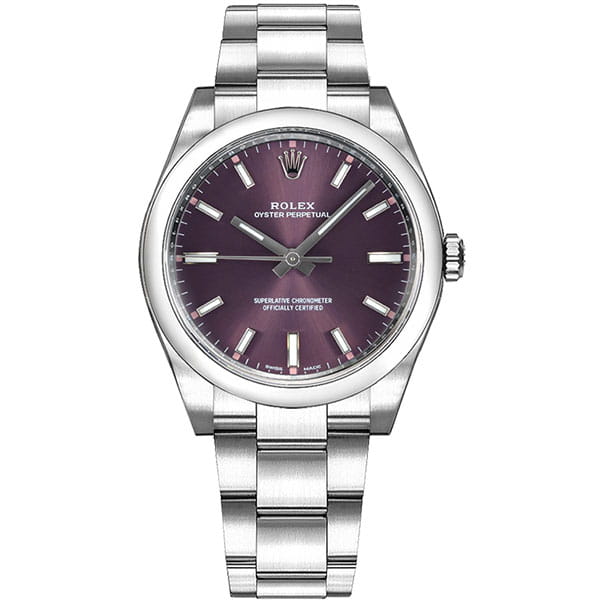 MOVEMENT
Self Winding Automatic Chronometer Movement
( also with a magnetic shield to protect the movement )
Rolex Caliber 3130
( Entirely developed and also manufactured by Rolex )
Vibrations Per Hour: 28,800
Jewels: 31
OSCILLATOR – 

Paramagnetic blue Parachrom hairspring

Up to 48 Hours Power Reserve
FEATURES
Anti-Magnetic
Stop-Seconds for Precise Time Setting
CASE
Shape: Round
Diameter: 34 mm = 1 1/3″ CASE
Material: Brushed 904L Oystersteel Stainless Steel Case 
904L Oystersteel Stainless Steel Domed Bezel 
Scratch Resistant Sapphire Crystal
Screw Down Crown also with Twinlock Double Waterproofness System
100 Meters / 330 Feet Water Resistant
DIAL
Color: Grape Red
Applied 18k White Gold Index Hour Markers with Luminous Fill 
Hour markers fashioned also from 18 kt White Gold to prevent tarnishing
Hours and also Minutes Hands with Luminous Fill
18Kt White Gold Rolex Crown applied at 12 o'clock position
BRACELET / STRAP 
Type: Bracelet
Material: Brushed 904L Oystersteel Stainless Steel Oyster
Size: 6″ – 15.24 cm Adjustable
Oysterclasp Deployment Buckle
Free Bracelet Sizing
Warranty
6 Years Warranty Included or you can also choose for an extended warranty program:
Silver – +3 Years 
Gold – Lifetime
Platinum – Lifetime with Yearly Ultrasonic Deep Cleaning
Also, find more information about the price and availability here 
~
But, for entire ROLEX OYSTER PERPETUAL 34 mm Collection please follow also this link: Rolex Oyster Perpetual 114200 – 34 mm
~
In case you need more information about Rolex Oyster Perpetual Collection – Prices and also Availability, please follow this link:
---
Rolex Oyster Perpetual 114200 34 mm Women's Watch Review | Majordor | Luxury Watches